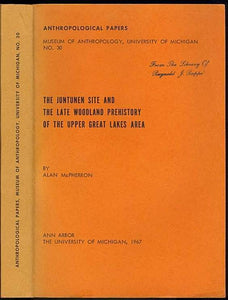 The Juntunen Site and the Late Woodland Prehistory of the Upper Great Lakes Area
Author:
Alan Locke McPherron (1929-2020) 
from the library of Dr Reynold J. Ruppe
Year:
1967
Publisher:
University of Michigan Press
Place:
Ann Arbor
Description:
ix+319pp with 30 tables, 43 figures, 57 plates and appendix. Octavo (9" x 5 7/8") bound in original publisher's wrappers with black lettering. From the library of
Dr Reynold J Ruppe
. Anthropological Papers, Museum of Anthropology, University of Michigan Number 30. First edition.
The Juntunen Site, also known as 20MK1, is an archaeological site located on the western tip of Bois Blanc Island. The Juntunen site is located on a low sand beach about 600 feet from and 17 feet above the current lakeshore. The site was a large seasonal fishing camp covering approximately 2 acres. It was likely a seasonal fall fishing village similar to the nearby Scott Point Site. The site also contains five ossuaries, plus an infant burial and additional remains collected from the surface. The site was used during the Late Woodland period, probably over a period of time between 900 and 1400 AD. The burials primarily dated from 1200 to 1400 AD. The frequent but seasonal occupation of the site led to a stratified layering of archaeological remains at the site, consisting of up to 25 separate layers. The Juntunen Site was discovered in 1932 by Robert Braidwood of the University of Michigan, who found human remains eroding from the surface of a group of mounds. Excavations were carried out over the next few years. Mr. Charles Juntunen, the property owner of the site, discovered more remains in 1959 while bulldozing a road. Juntunen contacted The University of Michigan, and the University's Alan McPherron and James Griffin conducted multiple excavations.
Dr Reynold J. Ruppe 1917-1993 received his PhD in anthropology from Harvard University and taught at Arizona State in the Depart of Anthropology.
Condition:
Dr Ruppe's stamp on front wrapper and title, spine sunned, corners bumped else a very good copy issued in its original wrappers.
---
We Also Recommend