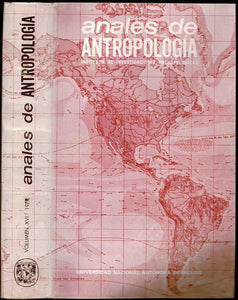 Anales de Antropologia Volumen XVI
Author: Luis Gonzales R (editor)
Year: 1979

Publisher: Universidad de Nacional Autonoma de Mexico (UNAM)
Place: Mexico City
Description:
579 pages with plates, figures, illustrations, tables, drawings and bibliographies. Octavo (9" x 5 1/2") bound in original publisher's pictorial wrappers. Instututo de Investigaciones Antropologicas Volumen XVI. First edition limited to 1500 copies.

Contents: Una mascara olmeca en el templo mayor de Tenochtitlan by Edwardo Matos Moctezuma; Una area rural en la periferia de Tenochtitlan. Estudio arqueologico by Maria Teresa Cabrero G; La ceramica de Teotihuacan: relaciiones externas y cronologia by Evely Childs Rakttray; Terrernote-Tlaltenco D F Un asentamiento formativo en el sur de la Cuenca de Mexico by Mari Carmen Serra; Puche y Yoko Sugiura Yamamoto; Origen de los sistemas agrarios by Mario Sanoja O; The Value and Potential of Ethnobotany by Earls Smith, Jr; Un estudio de la distribucion de los tipos ceramicos del sitio Cerro de Zacatepechi, Morelos by Donovan Cowgill Senter; La regulacion del movimiento internacional de bienes culturales entre Mexico y Estados Unidos by James A R Nafziger; Iconografia Mexica. El monolito verde del templo mayor by Alfredo Lopez Austin; El canibalismo azteca, ?una necesidad ecologica?, by Bernardo R Ortiz de Montellano; Los animales en la medicina tracicional mesoamericana by Teresa de Maria y Campos; Dos metodos de adivinacion tlapaneca: medir el hueso y echar los granos de maiz by Marion Oettinger, Jr; La sexualidad en Mexico by Noemi Quezada; Technology and Alienation in Industrialized Nations by James E Blackwell; El nahuatl en el Estado de Tlaxcala by Yolanda Lastra de Suarez and Fernando Horcasitas; El nahuatl en Jalisco, Colima y Michoacan by Leopoldo Valinas; Vida y muerte de nahuatl by Tim Knab; Observaciones sobre la evolucion fonologica del Tlapneco by Jorge A Suarez; La economia y antropologia fisica by Leticia E Casillas and Luis Alberto Vargas G; Adiposidad, muscularidad y linearidad en un grupo de ninos mexicanos by Maria Villanueva S; El analisis de cumulos aplicado a datos longitudinales de crecimiento by Guillermo Espinosa y Johanna Faulhaber; Algonos aspectos antropologicos de las malformaciones congenitas by Santiago Genoves; El crecimiento diferencial en algunas regiones del cuerpo by Johanna Faulhaber; Las crisis convulsivas en la medicina nahuatl by Carlos Viesca Trevino and Igancio de la Pena Paez.

Condition:

Edge wear, spine sunned, corners bumped else very good.